Our Pro-shop, is undisputedly one the best in Hampshire! Alongside my assistants, I am confident that we will offer you a first class experience, at our first class golf club.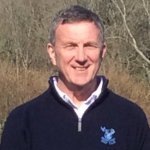 Clive Bonner - PGA Head Professional
I joined Bramshaw golf club as Head Professional in 1992 after serving seven years at Brokenhurst Manor and prior to that four years at Dunwood Manor. Due to injury problems I had to give up a successful playing career.
In 1976 I won both the Hampshire PGA matchplay and strokeplay titles and I am still to date the youngest player to have won both competitions in the same year.
In 1978 I qualified for the Open Championship at St Andrew's and the following year I earned my European Tour Card. My best finish was top 25 in the Swiss open.
Having worked with John Jacobs I have gained a vast experience of coaching, and was coach to Kevin Weeks when he won the English Amatuer championship.
Putting is usually an area of the game that most golfers neglect, but I have had a lot of success in helping people to improve this area. This has resulted in them lowering their scores and their handicaps.
Using the FlightScope and my vast knowledge of clubhead design and shaft specifications I am able to provide you with an excellent club fitting service, to ensure that the correct clubs are found to suit each individuals needs.
---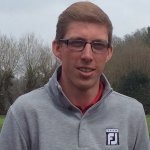 Michael Bristow - Assistant Professional
I have been a member of the professional team here at Bramshaw now for 3 years.
In those 3 years I have graduated the PGA Foundation Degree and now as a fully registered Class A Professional providing high quality coaching and fitting services to members and visitors of Bramshaw golf club.
My most noticeable achievement at Bramshaw, is recognised by my involvement in coaching the junior team and working with them on their way to their way to becoming Home Nations Champions in 2018.
---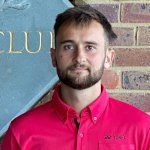 Kieron grew up in Spain where he started to play golf at the age of 10. He had a successful Amatuer career winning the u18 National Championship of Spain and 2 County Championships. He was also selected for the England National Golf team and went unbeaten in all matches. At 18 he decided to go to America on a golf scholarship but decided to return to the UK to pursue his golf. He turned Profesional at the age of 20 and played the Europro tour and decided to do the PGA training programme. Throughout the degree he was awarded the Assistant of the year for the South West twice, and qualified 10th best Trainee in the Nation. Whilst doing his training, he worked at Lyme Regis Golf Club and after showing success, the club put him in charge of the custom fitting and coaching side of the business.
Kieron has a fantastic track record with his students. He coached the majority of his previous clubs members and visitors including the last 4 club champions, a county champion and 3 county players. He enjoys coaching people of all ages and abilities, and got regular visits from players in and around the area due to his growing reputation as an effective all round coach. Kieron believes in working with the players limitations and keeping things simple in the swing. He also has a great depth of knowledge within the short game after being taught by Sir Tommy Horton and José María Olazábal.
---